J. Randall "Randy" NyeJD, Master (Taxation)
Principal
jrnye@nye.net
---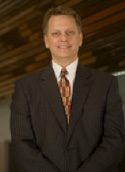 Before becoming a shareholder and principal of Nye Financial Group, Randy was an associate attorney at the Cleveland, Ohio, law firm of Calfee, Halter & Griswold, and was a member of that firm's Employee Benefits and Executive Compensation practice group. This group had a national reputation and, as a result, Randy considers the training and experience received in this "big law" environment his most valuable assets.
While still in law school in 1987, and while consulting with John Nye on a particularly difficult case, Randy developed a technique that subsequently became Nye Financial Group's core planning strategy: the Annuity/Life Arbitrage. While it can't be definitively established that Randy and John were the first to employ the concept (we have not found anyone yet who used the technique before 1987), it is an example of the kind of original thinking that Nye Financial brings to planning for clients.
While continuing to serve as Nye Financial's general counsel, Randy has also relaunched his solo law practice that generally focuses on cooperative business development with a special emphasis on cooperative wealth management.  Cooperatives are businesses where the users of the business are also the owners of the business.
Randy and his wife, Karen (a Certified Registered Nurse Anesthetist), reside in Hudson, Ohio. They have four adult sons: Chris, Alex, Cory and Zach.
Education:
University of South Florida — Bachelor's degree in finance
University of Akron School of Law, Magna Cum Laude
University of Akron College of Business Administration — Master's (Taxation)
Get in touch
---
To schedule a time to discuss your financial future and the possible role of insurance or investments in your financial strategy, contact us at info@nye.net or call us at 800.837.8848 today!