Dan Griffin, RICP®
National Social Security Advisor Certificate Holder
dan@nye.net
---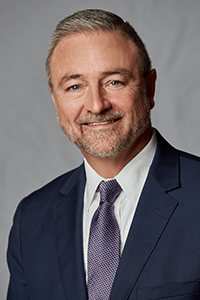 Dan is a retirement planning advisor and chief marketing officer for Nye Financial Group, Inc.
Dan works with Nye's clients and prospective clients in the development and implementation of retirement income plans utilizing strategies designed to diversify and optimize their sources of contractual income, minimize income risk in retirement and implement tax-efficient withdrawal strategies.
Our "resident expert" on Social Security benefits analysis and planning, Dan often appears as guest host of our weekly radio show, "The Retirement Planning Show with Rick Nye," to share his knowledge and insights on strategies to maximize lifetime benefits. He is also responsible for the development of our firm's marketing strategy and plan implementation.
Dan has been a member of the Nye Financial Group team for over 10 years. Prior to joining us, he was senior sales and marketing manager for one of the country's most respected life settlement providers and, more recently, served as regional director, life settlements, for Crump Life Insurance Services, the nation's largest independent wholesale provider of life insurance and annuity products.
Dan holds his Ohio Life and Health and Life Settlement licenses, has earned The American College's Retirement Income Certified Professional® designation and is National Social Security Advisor™ certified.
Dan and his wife, Linda, reside in Hudson, Ohio. In his free time, he enjoys cheering on any professional sports team with "Cleveland" in its name and spending time with family (especially at Holden Beach, North Carolina), including daughters, Erica and Delaney; son, Danny; and his four grandchildren, Ethan, Evan, Bella and Enzo.
Credentials:
Retirement Income Certified Professional®
National Social Security Advisor™ Certificate Holder
Licensed Independent Life Insurance Agent
Licensed Life Settlement Broker
Get in touch
---
To schedule a time to discuss your financial future and the possible role of insurance or investments in your financial strategy, contact us at info@nye.net or call us at 800.837.8848 today!