Meet
John Nye and his team
---
Our experienced professionals are not just knowledgeable about finances, we also understand the importance of priorities, family and confidence in your financial future.
MeetJohn B. Nye, Jr.
Principal
john@nye.net
---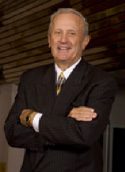 As co-founder and principal of Nye Financial Group, Inc., John is a seasoned life insurance producer specializing in the needs and concerns of retirees. He has over 42 years of experience in building client relationships. These relationships have been the foundation of our company.
Under John's leadership, he and his two sons, Rick and Randy, quickly developed an expertise utilizing specific tools offered by the life insurance industry.
The key speaker for many of our Florida educational seminars, John has educated thousands regarding advanced estate planning, IRA distributions, annuity maximization and wealth preservation strategies.
Along with his son, Randy, John discovered a phenomenon in the life insurance industry — pricing discrepancies in Underwritten Single Premium Immediate Annuity payouts and the cost of life insurance, which led to a financial strategy concept for which we coined the term Annuity/Life Arbitrage. The strategy made it possible for our clients to receive high levels of guaranteed lifetime income with no market risk, coupled with a wealth transfer platform that passes wealth income and estates tax-free for our clients' beneficiaries.
Mr. Nye has been invited to speak before many civic and professional groups, in addition to insurance industry conventions. He has also hosted an "Advice Line" program on a local radio station.
Credentials:
Ohio life and annuity licensed
Florida life and annuity licensed
Life and annuity licensed in several additional states
Education:
West Virginia Wesleyan College — Bachelor of Arts in Education
Kent State University — Master's Degree in Education
2005 West Virginia Wesleyan College Athletic Hall of Fame for baseball, basketball, cross country and track
MeetDana Hamann Plesz
Director of Business Operations
dana@nye.net
---

Dana is the personal assistant to John and oversees the development and management of client relationships. She serves as a liaison for clients and professionals and is responsible for visual presentations for individual clients, along with the development of NFG workshop presentation materials. She is the licensing liaison for NFG and its representatives with outside insurance companies and state regulators, along with managing incoming and outgoing commissions. Dana has been with Nye Financial Group since 1999 and has worked with John Nye through associate firms for 30 years. She is a licensed agent with 30 years of experience in the financial service industry and has been a certified Notary Public since 1994.
MeetDenise Nye
General Assistant to John B. Nye, Jr.
denise@nye.net
---

Denise is general assistant to John Nye, providing general office administrative support in the areas of client communications, client presentations, case management and client services. Originally from New York, Denise earned her Bachelor of Arts in sociology at SUNY at Stony Brook in 1980. She relocated to Florida in October 1988 and has two children, Alexandra and Michael.
Get in touch
---
To schedule a time to discuss your financial future and the possible role of insurance or investments in your financial strategy, contact us at info@nye.net or call us at 800.837.8848 today!